Every year, when the 8th of March comes rolling in, we see our newsfeed full of posts celebrating women – their achievements, their struggles, and their goals. It's important to remember that women's rights looked very different a couple of years ago, and it took hundreds of protests to get to the place we are at right now. Up until the Pregnancy Discrimination Act of 1978, women could get fired for being pregnant, and were only granted voting rights in the US in the 1920s… So you can imagine what a different world it was… And there is still a lot of work to be done to reach equality!
This International Women's Day, AcrossLimits wants to celebrate five amazing, entrepreneurial women that have been part of our journey, and accompanied us in projects, or supported our ideas through their words or actions. The theme of the 2021 #IWD is "Choose to Challenge", in which we are invited to raise our hand up in solidarity in choosing to challenge, and forge a gender equal world. Therefore we've invited Angela Laguna, Ghita Ramdhiansing, Jacqueline (Jay) Purcell, Lina Tsaltampasi and Rana El-Akhal to tell us a bit about themselves, their struggles as entrepreneurs, the lessons that they learnt along the way, and what #Choose to Challenge means for them.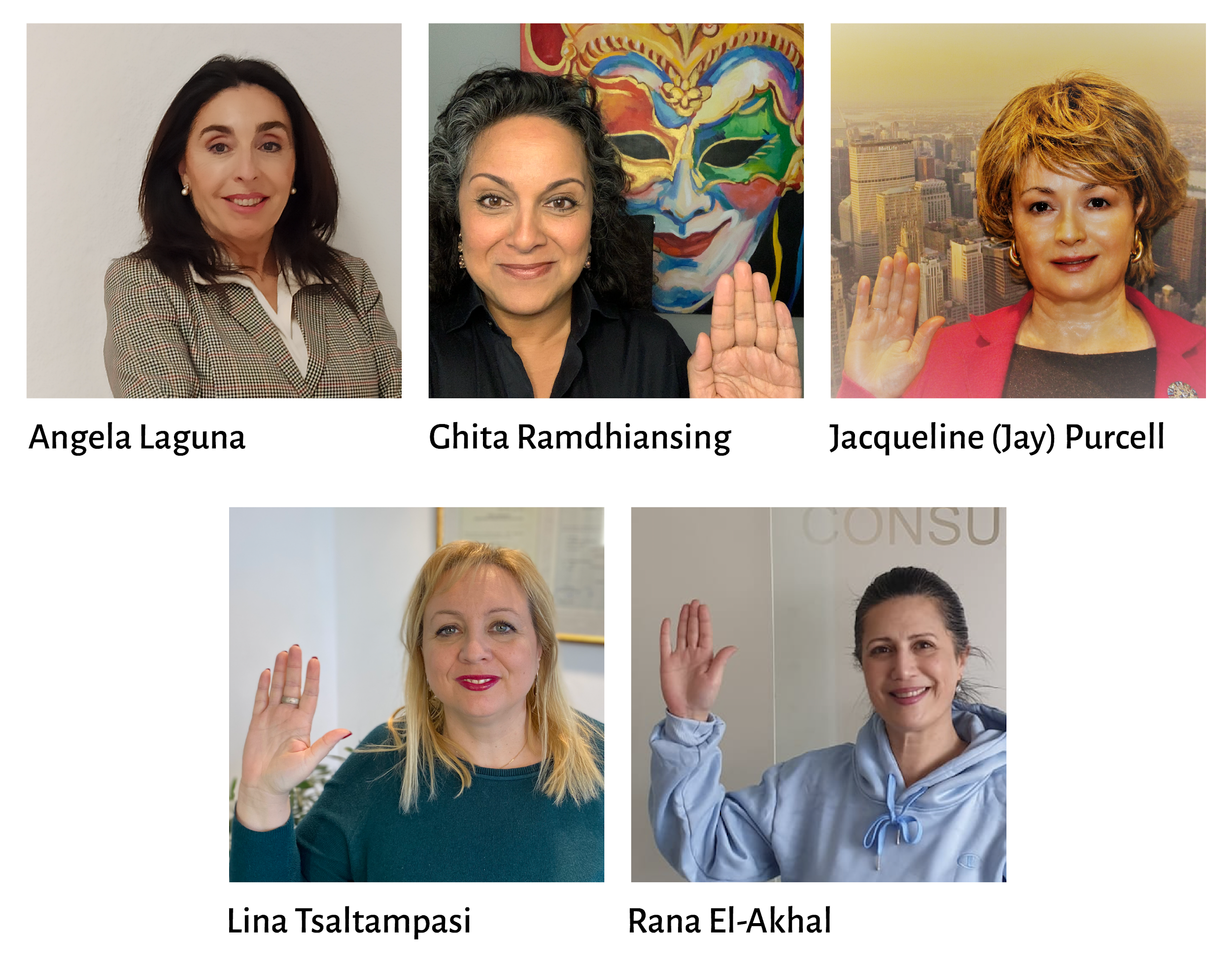 So who are these women? 
Angela Laguna, is an Industrial Engineer with extensive specialized training in business management. "I have developed my professional experience in the field of Management in the areas of consulting, engineering and technological services within all types of organizations, especially in the industrial sector. I am currently the CEO of VEA Global, a subsidiary of the BAC Group for Engineering and Consulting, where I am an Executive Director. I lead the division of innovation, sustainability and especially in the energy area, as well as in the financing and subsidy management line in which I have a lot of accumulated experience, and I love my job."
Ghita Ramdhiansing, Co-Founder, Research & Product Developer of CLEARWATER, develops modern interaction assessment tools as a part of life-long learning and inclusive organizations where people interaction is key. "I operate internationally from Malta as a coach, trainer, advisor, focusing on clarity about characteristics in different contexts and understanding their effects in interaction to become agile in it. My motivation to develop intelligent tools has been triggered by people's social, and not that social, interaction mechanisms. Challenging, understanding, accepting, or acting are to me essential elements in coaching and training in people skills."
Jacqueline (Jay) Purcell is an International Consultant for Growth, and CEO of Jasper Alliance London Limited. "Incorporating both academic and business minded professionals, Jasper Alliance London chooses to work on projects that empower causes, and produce benefits for the masses in a sustainable manner. Governmental leaders should work on creating job opportunities, and environments in which everyone can focus on personal growth, community, development and progress. Diversity and inclusion policies also make me happy — I like to create opportunities that produce the greatest amount of good for the greatest amount of people, even though this is not always possible. I believe that each of us should aim to be self-actualized humans who will hopefully make the right choices, overcome challenges, be happy, and work within a field that is enjoyable to us. As the CEO of Jasper Alliance, I have contributed to some of the most worthwhile projects in the world, and this was recognised by British Expertise,who awarded us with the Outstanding International Leadership award, for establishing the International Toastmasters' Public Speaking and Leadership Academies inIraq. This was Jasper Alliance London's not-for-profit contribution to the people of Iraq.
Lina Tsaltampasi is a self-made entrepreneur from Greece. "I have what I call a Globalised SME. Even though we still are considered as an SME (we have turnovers of less than 10milEuros), we operate and have projects in 62 countries. OECON Group consists of 5 companies, all related to the Consulting field and Entrepreneurial Development. Our Headquarters are in Greece. On a parallel level, I support Female Entrepreneurship and Empowerment in Greece, as the President of the Greek Businesswomen Association. I am a Mentor, a Business Angel and an active supporter of the European Start-up Community.To top this up, I'm a mother of two teenagers, wife, daughter…..and much more.
Rana El-Akhal is the Vice President of the Jordan Forum for Business and Professional Women(JFBPW), the founder and Managing Director of MEDAL llc group of companies and a global member of the community of Global Women Peace builders. She is a women's rights advocate mainly on women's economic empowerment rights, and a strong advocate for rights of persons with disabilities.The diversity of her professional experiences anchored her ability to provide solutions in; socio economic development, institutional excellence, policies and governance, decentralization, organizational excellence, strategies, M&E and impact assessment.
 Which were some of the important lessons they learnt along the way in becoming entrepreneurs?
Angela: Doing things well and developing a profession requires dedication and effort. Everything comes through effort, involvement and hard work. One's personal relationship with clients, collaborators and all other social relationships are also very important. Everything we do must be based on loyalty, honesty and values, — and being honest with oneself, with others and with everything that is done is the key to success. Together with this, impulse along with curiosity and constant training is very important.
Ghita: Don't take advice from someone who has not done it themselves. No matter what your past reminds you of, and reality presents you, you always have a choice. Never assume and if you do: verify.
Jay:To listen, learn and to be open to new ways of thinking. In my mind a permanent question that persists is: 'Is this the best use of my energy and time?'. If the answer is yes, I am happy.
Lina: I believe that the most important lesson learnt is that you never lose. Even if you haven't won, this is not a loss if you manage to gain a lesson. Every experience bad or good, any issue that didn't turn out successfully — this is a valuable lesson if you manage to work on your experience properly. A second lesson learnt is that whoever works hard, and adapts alternative thinking and methodologies, will still manage to succeed despite any circumstances. I have never seen a hard-working, clever person, with an honest product or service, who was unsuccessful in the long term. Maybe at certain points, we may feel like people that don't deserve it are overtaking us, but long-term and sustainable success needs more than well-connected people.

Rana: I learned many lessons throughout my personal and professional journey so far, the most important of which are:
The world, in most cases, might not be fair; breath well, remember all the good things that exist, pull yourself together, and fight with persistence anyways, repeat that as many times as needed.
Gender gap is still wide in many aspects. In some countries it is wider than others. In some aspects it is more painful than others. We "feminists" should keep talking about these gaps, keep addressing them at the best of our capacities, and never abandon hope that they will be bridged by our collective global work, beliefs, support to each other and persistence.  
You should pay attention when others try to undermine your capabilities and successes, because when that happens, it means that you are becoming a worth-fighting competitor; listen, smile, and keep moving forward and upward.
Life and business can get so tough, one can lose accumulated successes and hit the bottom at certain points; when that happens, remember that life, as well as business, move in curves 🙂 — at one point, one can be at the bottom, but the next movement will definitely be upwards. All you have to do is to stay strong enough to keep going.
Good health is not only our physical wellbeing, it is more importantly, our mental wellbeing and the latter can be controlled by us.  
Take some time every day to appreciate the beauty in the world regardless how simple it may be.
Wake up early, plan your day, don't mind some alterations if needed, and celebrate accomplishments.
 Has there been a role model who's inspired them throughout their career?
Angela: Any pioneer woman, who has fought, or who struggles to become a professional, and to improve, is my constant role model, and she inspires me. In my upbringing as a child, my paternal grandmother, a woman ahead of her time, and a fighter for her work and her family, taught me as a role model. I have also been greatly influenced by a teacher that I had in my training, a lover of her profession, who always reminds me of the importance of getting involved in work and enjoying the journey.
Ghita: Maybe not necessarily a role model but characteristics in people I admire. In that case several. Dr. Paul Ekman, pioneer in the studies of emotions throughout his career he made science sexy: several book titles, developed training tools from a general level to getting into the real stuff and consulted in movies and series.  
At the age of sixteen when I was growing up in Amsterdam I met Flora Visser, one of my first summer job employers, was in many ways a distinctive entrepreneur in eyewear, she had a clear vision of how she wanted to run her store and had a keen eye for what would become trending and attracted clients from all over the country in a time when we did not have internet as we know it now. 
Ryszard Kruszel, I'd wish everyone should meet a person like him at least once in a career time. He paid it forward by investing in me even when we agreed I would leave the company and lastly the coach who chose to challenge: Heleen Arends.
Jay: Professionally, I am inspired by the pragmatists, in particular William James. Pragmatism is my worldview. As an educator I enjoy the works of pragmatist, John Dewey. The historical role of Charles Sanders Pierce in establishing pragmatism is worth reading. These are the historical people who I think like, so we are in perfect harmony. Personally, I try to honour my parents, siblings and close friends by contributing to worthy causes and by sharing those case studies with them. This is my way to thank them for their lifelong support of me and to encourage them to do more.
Lina: When I was a student, I had to work for a living. That is when I started working in EU Projects as an Assistant. My first project was implemented on behalf of a Cypriot Organization. It was then that I met Ms.Eleni Maragkou. In her 40's, she was already successful, and a mother of three with a powerful personality. She had faced several challenges throughout her life, such as being a war survivor in the 1974 Invasion of Cyprus, when she was a young mother and her career hadn't yet taken off.  She took refuge in Greece from Cyprus, but never abandoned her dreams. Women like her are the healthy role models we need in our lives. Everyday women, survivors, fighters, creators, changemakers!
Rana: I have many role models actually, each one of them inspired me in a certain aspect, contributing to the overall personal and professional maturity. My mother is my role model for patience, my dad is my role model in being so precise and quality oriented, a group of female and male colleagues inspired me in time organization, management of assets, professionalism and more.
 What is their favourite way of learning, and their podcasts, books or documentaries recommendations?
Angela: I have attended prestigious universities, and business schools such as IESE, I have read multiple papers from professionals in the sector, and attended conferences, congresses and any training that was made available to me. But more importantly than that, I believe it is the ability to learn from relevant people ,and from the daily experiences and interactions with colleagues and collaborators. Learning many times means opening your eyes to the possibilities that your environment can bring you.
Ghita: I like to learn by doing and experiencing myself. 
Books: 
Dick Swaab – We are our brains: from the womb to alzheimer's
Jordan Peterson – 12 rules for life
Susan Jeffers – Feel the fear and do it anyway

Jay:  I'd recommend reading or watching podcasts and documentaries about pragmatism if it appeals to you. I like to learn from a variety of viewpoints. We are now living in an age of media, public relations and pragmatism. I recalled with crystal clear detail how during my research degree, I found my philosophy which is pragmatism. It was a transformative discovery. I now teach others how to find their perspectives, their style, so that they waste less time going down roads that do not resonate. Once you find your world view, the perspective that makes sense to you, consume everything you can find to crystallize your intention to be that way of being in the world so that your true gifting can be shared in the way that feels right.
Lina: I like learning in situ. I believe that theoretical training can't be a holistic approach if we don't have training which includes experience. Practice is the crown of the learning kingdom, and interaction is the jewel of the crown. To be honest, in the last few years I mostly read funny books for relaxation, since my work includes reading zillions of pages annually. I love though the podcast "How I build that?" I find it very inspiring!
Rana: The combination of audiovisuals tools, analytical reading and reflection, combined are my learning style. I have contributed to several professional published studies and reports, and I am planning to publish books in future. 
 This year for International Women's Day, the Tagline is "Choose to Challenge". What does this tagline mean to them?
Angela: The world changes and every moment it is up to us to decide if our best bet is to change with it, or stand still. Changing something is a choice and choosing means fighting for what you always want.
Ghita: Story of my life 😉 Great tagline! As long as you realise the consequences of what you challenge.
Jay: I have lived in and worked in countries and companies where leaders are never challenged — CEOs MDs, Managers and Boards of Directors likewise. Dictators are created because others attribute God like status to them, and because we live in an age of celebrities which encourages sycophantic behaviour.  This fear of being forthright, or of raising a viewpoint that is different to others, is usually due to the economical fear of losing income, especially when an entire family will suffer if one speaks out. I have, on more than one occasion,  watched leaders become dictators because no one challenged them, and was fortunate to survive. I often spoke with trepidation/apprehension and with a soft voice and good manners so that 'I could speak and yet not lose'.  It was like walking a tightrope. I was often successful in guiding an actual, or potential, dictator onto a better path. However, other times I saw certain doom in the looks levelled at me. I would feel as though I was within a strange mist-like environment, and my intuition would say: 'Run, you are in danger'. I listen to that intuitive voice because it has guided me to a safe place, in which I am surrounded by non-ego driven people and friends, and where I can speak and laugh freely. This gives me joy and energy to do my life's work. We need to #ChooseToChallenge and to protect those who #ChooseToChallenge. But please, use good grace and find an elegant solution if possible so that your challenge stands a good chance of being successful.
Lina: Wow! Really! Too many hidden messages on this. Challenge people to listen to your female voice! Challenge the world by creating a change! Challenge young women to step-up! Challenge your life with changes and surprises! Challenge yourself and reach your limits!
Rana: This year is globally an extremely tough one, especially for businesses, the tagline "Choose to Challenge" means to me that we should challenge the hardships of this year by persistence in focusing on the positives and achievements.