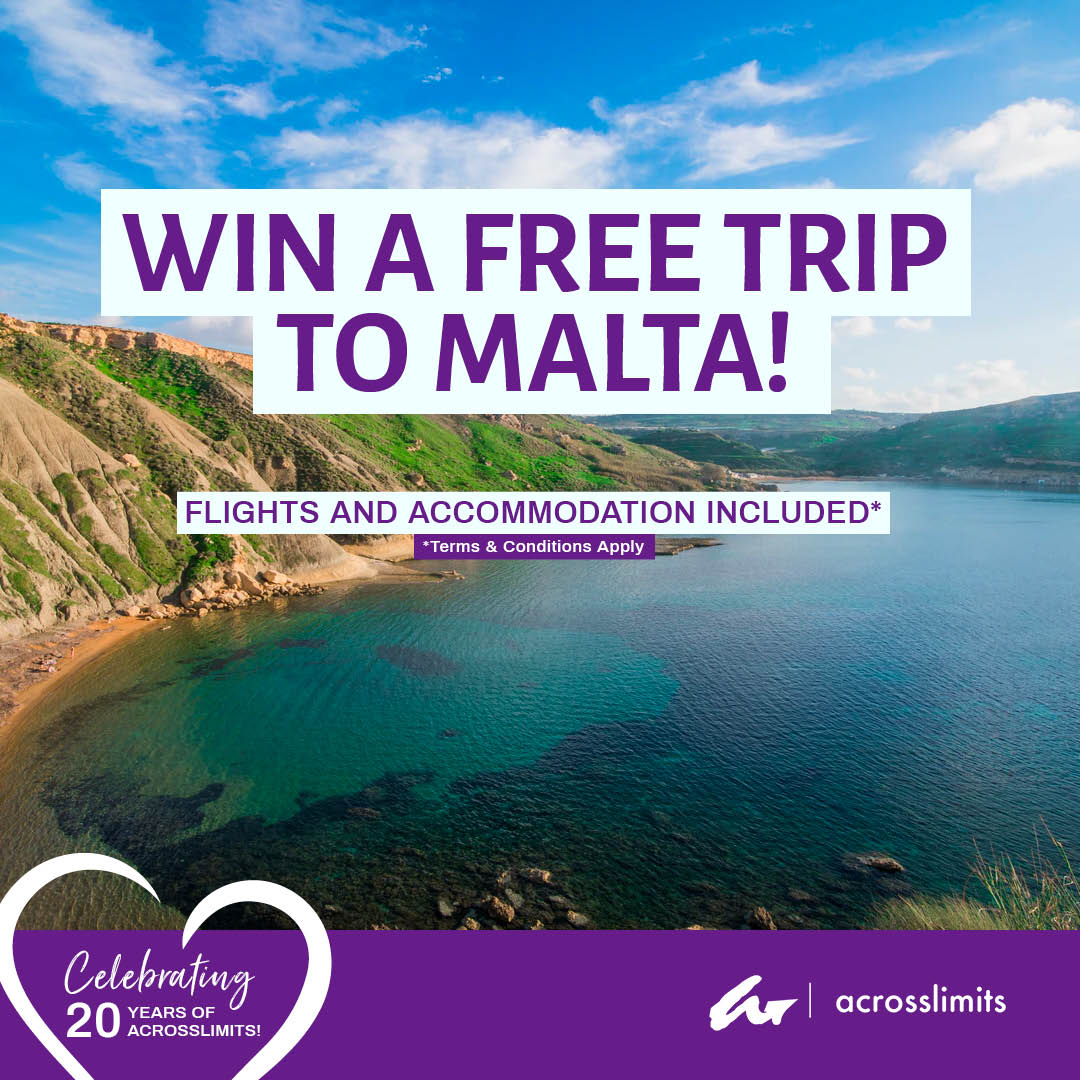 AcrossLimits Malta Competition
Do you have an idea that you think could be turned into a European Project? Fill in this template and submit an online concept note, by clicking on the button found at the bottom of the webpage. 
Describe the problem that you'd like to tackle, the solution you're proposing, and the innovative elements in your proposal! Not only do you have the chance to win flights and accommodation to Malta, but you'll also have the chance to work with AcrossLimits to turn the proposal into a fully fledged project! Each participant is allowed to submit up to 3 entries. 
Entry Criteria
Participants should fill in all the boxes in the form with their answers. Forms with uncompleted answers will not be accepted. 

This competition is open to participants based in Europe. If first place is won by a Maltese participant, flights can be to and from any European Destination of their choice, according to the same terms and conditions. 

Entry into the competition will be deemed as acceptance of these rules.

Past and present employees or contractors of AcrossLimits Ltd and associated companies, and their family members are not eligible to take part in the  competition.
The Prizes
Three Prizes will be awarded for the best submissions;
1st Prize: A 2 night stay at a hotel in Malta, including return direct flights from any destination in Europe. Flights include a 20kg check-in bag, and a 10kg hand luggage, and is valid for one person. Based on current calls and networking opportunities, you may also have the opportunity to collaborate further on the idea with AcrossLimits, and see your idea be adopted and brought to life by a consortium. (redeemable until December 2022)
2nd Prize: 10 Hours of EU Opportunities Free Consultancy with our CEO Angele Giuliano. 
3rd Prize: 20 Licenses of one of our online Presentation Skills Course.
Terms & Conditions
All participants  must be aged 18 years or over. 
The first prize is limited to direct flights from any European destination to Malta and vice-versa, together with a 2-night stay at a hotel in Malta, for one (1) person. The cost of these flights must not exceed Eur500, and flight and hotel bookings will be made by AcrossLimits Ltd. It is the responsibility of the prize winner to ensure that they and their party, if applicable, have valid passports, travel insurance, are aware of any COVID-19 related restrictions and guidelines and obtain any necessary vaccinations and visas for their trip.
Once the booking has been confirmed, any alteration to the booking will incur administrative charges, payable by the holiday prize winner. All elements of the prize are subject to availability, non-transferable and there are no cash alternatives. The winner may be required to participate in publicity including being featured in AcrossLimits Ltd's social media. Email addresses collected will be subscribed to the AcrossLimits' newsletter, with participants being able to unsubscribe whenever they like. If applicable, the holiday prize excludes;
Any departure and/or arrival taxes

Local taxes

Any additional charges for luggage exceeding 30kg

Ground transfers to and from the winner's departure airport(s)

Excursions, attractions, treatments and car hire

Travel insurance, spending money and any other personal expenses

Visas and vaccinations
Intellectual property
All concept notes submitted will become joint intellectual property between the participant and AcrossLimits. Concept notes will not be shared publicly on social media channels, and entries may be contacted at a later date to explore further cooperation. 
The Organiser
The organiser of this competition is AcrossLimits Ltd.

The competition starts at 12:00 on 14th May 2021 and ends at 23:59 on 7th June 2021 (CEST – Malta timezone).

Winners will be chosen after all entries have been judged according to criteria related to innovation, impact and sustainability.

Winners will be contacted by email within 30 working days of the competition closing date.

Winners will have ten working days to confirm their acceptance, which will begin after first contact from AcrossLimits Ltd has been initiated. Failure to respond within this time-frame will result in the prize being forfeited and a new winner will be selected.

Winners will be responsible for ensuring that they have read, understood and accepted the terms and conditions.

Winners may also be referenced in marketing communications once the competition has ended.

All personal data will be treated in accordance with GDPR.